Posted by Jay Suthers on Jun 24th, 2014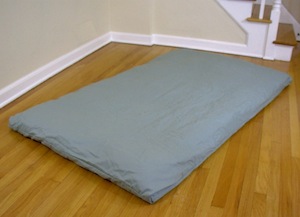 At Sage Meditation we offer three sizes of bodywork mats. The Thai and Shiatsu Massage Mats are the most popular mats we offer. The third size is a smaller Personal Bodywork Mat. Each is a variation on a theme in that all three mats are constructed in exactly the same way with a linen-fabric enclosed, cotton-batting insert and a heavier cotton-twill cover, which is removable and washable.
In addition to the standard, commercially treated cotton batting insert, the Thai and Shiatsu Massage Mats are also available with an Organic Cotton insert. Since organic fabric is much more expensive, we felt it would be a good compromise to offer the Organic mats with a non-organic cotton cover. This saves a tremendous amount of money and, since the cover can be machine washed, the non-organic treatments can eaily be washed out of the cover.
Thai Massage Mat - 80" x 60" x 3"
The Thai Massage Mat is the largest mat at 80-inches long by 60-inches wide by 3-inches thick. With Thai Massage, the therapist gets on the mat fully with the client. Therefore, this substantial mat, about the size of a Queen Size bed mattress, allows both therapist and client to work together in complete comfort. Three inches of cotton batting is more than enough to create a comfortable, futon-like mat. Neither therapist nor client will feel the floor underneath the mat.
For the therapist that regularly totes their Thai Massage Mat to their clients' homes, we offer two solutions. we offer a Massage Mat Tote Bag with wheels. Simply roll the mat up, lay it into the tote with its full-length zipper, close it up, and the wheels will carry the majority of the 38-pound weight of either the standard or organic cotton batting mat.
Another solution is that we offer the Thai Massage Mat with a closed-cell, Poly Foam insert. This insert reduces the weight of the mat to nearly half. The only downside to this design, however, is that the Poly Foam mat is only 2-inches thick. When placed on a hard surface, one can feel the floor beneath when kneeling down or resting on one's elbows with the Poly Foam mat. But, this is still a great option for toting the mat around because of its lighter weight.
Shiatsu Massage Mat - 78" x 42" x 3"
The Shiatsu Massage Mat is slightly larger than a standard Twin Size bed mattress. This mat is comfortable and large enough to allow the therapist to kneel on the mat next to the client while performing Shiatsu Massage. Both the standard and organic cotton batting mats are equally comfortable for both the therapist and the client.
Personal Bodywork Mat - 72" x 28" x 2"
The Personal Bodywork Mat offers a smaller mat for easier transport and very good comfort. If the client or your personal partner have a soft, carpeted floor or a soft rug, one can easily work on the other person with comfort mainly for the client. This is a terrific option for a small space. Placing two of these mats side by side is nearly equivalent to the size of the Thai Massage Mat, but the smaller mats may be easier to handle.
Versatility
Another great use for these mats is temporary bedding. The Personal Bodywork Mat is perfect for camping, sleeping at a friend's house, or an overnight stay in a van or car. The Shiatsu Massage Mat and Thai Massage Mat can be covered with a full size or queen size fitted sheet respectively. They are great for visiting guests and children love playing on them with their friends or for having sleep overs. They can be used for permanent bedding and in all cases we recommend regular and frequent rotating and flipping of the mats to ensure they wear evenly. The mats are very durable and hold up well.
The cotton-batting inserts have three layers of cotton batting (two in the Personal Bodywork Mat) and are tufted in several places to ensure the batting does not migrate inside the linen covering. The covers have a long zipper on one edge and are easy to remove for washing. All three mats come with a heavy, cotton web strap and quick release buckles. This strap holds the rolled-up mat in place and also creates a shoulder strap to aid in carrying the mat.
Overall, the Personal Bodywork Mat, Shiatsu Massage Mat, and Thai Massage Mat are a great value, durable in construction, comfortable, versatile, and will last for years.
Thank you for reading,
Jay
If you would like to comment on this blog or have any questions, please feel free to Contact Sage Meditation Customer Service.