Posted by Jay Suthers on Jun 9th, 2015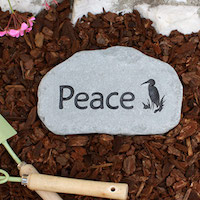 It's the time of year, in the Northern Hemisphere, when the cold winter has subsided and we begin to focus on outdoor activities. This oftentimes includes planting flowers, vegetables, herbs, and other plants. Getting our hands into the soil, cleaning up the dead debris of winter, and filling spaces with blooming flowers renews our spirit and brings happiness to life.
A shady spot in the garden, under a tree in the yard, or on the patio allows us to relax, read a good book, take an afternoon nap, or meditate. We can add items to the space to enhance our experience of these peace-filled spaces. Wind chimes, colorful ornaments, personal arts and crafts, and Garden Stones make our garden a place that is uniquely ours - a celebration of who we are in this world.
A custom garden stone is perfect for adding a personal message or memorial to your garden. Our garden stones are real blue stones from the Catskill mountains of Upstate New York. Your custom message is laser etched into the stone and the text is sealed with black stone paint to make the text more readable and to ensure decades of durability.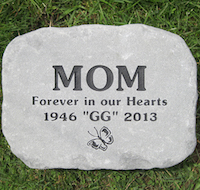 The stones come in various shapes and sizes from which to choose. You can select the stone size based on your preference or how much text you would like to place on the stone. In addition to the text, we have more than 100 symbols that you can add to the stone. The text can be printed in any of five available fonts.
These custom stones can be as simple as a single, inspirational word or something more complex with your favorite quote from a Spiritual Master, a Bible verse, a Haiku, or your own poetry. If you would like to create a memory for a lost relative, friend or pet, you can memorialize them with a sentiment, their name, and the date of their passing. You can honor someone's service to your organization, send them a permanent Father's Day blessing, or let them know you cherish their place in your life. The possibilities are nearly endless.
If you have a custom stone idea that doesn't seem to fit the limitations of our system for ordering a stone, you can contact us with your ideas and we are happy to work with you to create your unique garden stone.
Thank you for reading,
Jay
If you would like to comment on this blog or have any questions, please feel free to Contact Sage Meditation Customer Service.