Posted by Jay Suthers on Oct 2nd, 2014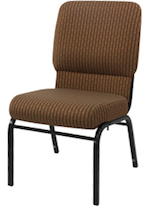 There are really very few chairs designed specifically for meditation. The reason is that most meditators prefer to use a simple meditation cushion such as the Zafu. However, even though cushions can provide a comfortable sitting platform, some meditators prefer a chair that that can provide back support during meditation.
Any chair with a padded seat can be used for sitting meditation. Simply place your feet flat on the floor and rest your hands in your lap. If you are flexible, you can put your legs up in a crossed position on the chair seat, but the legs and knees will hang over the edge, which can be uncomfortable. If the chair has arms, they can get in the way of achieving a comfortable sitting posture.
In general, the cushions on a couch or other formal living room chair are too soft. Meditating on these types of furniture typically do not work well and can easily lead to discomfort from the lack of firm support.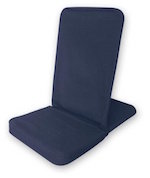 The BackJack Chair is a popular, simple floor chair that offers back support. This is a chair with no legs, so it goes directly on the floor and one typically sits in a crossed legged sitting posture on the padded seat. The metal frame of this chair provides good back support, however, it does slope back slightly and does not provide a good upright posture. Using a small "Airplane" or throw pillow can help get you into a more upright sitting posture.
These chairs can be used for all types of floor sitting and even work well to organize a group of children for book reading or classroom discussion. There is some padding in the seat, but the back is just canvas over the metal frame with no padding inside. Still, these are very useful chairs.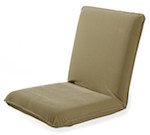 Another version of the floor chair is the Multi Angle Meditation Floor Chair. This chair has no legs and and does have a metal frame as well, but is covered with foam padding and a zippered, removable velour-fabric cover. There is a "click-clack" mechanism in the frame that allows you to adjust the seat back from a perfectly upright position to a completely flat position with 4 positions in between. Over all, this chair is larger than the BackJack Chair, has more cushioning, and offers a straight upright position.
There are a few other specialty chairs for meditation and some of these are quite nice. However, they tend to be expensive and are generally considered "furniture" in the sense that they are large and heavy, and not something you can put in the car to take with you on a meditation retreat. One example is the Seagrass Meditation Chair by Harmony In Design, which costs about $350.00.
Some new designs have appeared that are too numerous to cover in this brief article. To get an idea, simply go to Google or another search engine and search for "meditation chairs". Click on the "Images" link of the search page to see the variety of chairs out there (This is also a great way to search for items that you can see in your minds eye, but you're not certain what they are called). Some chairs are intriguing, others are works of art or even down right strange. But, in most cases, people will appreciate and do quite well with a simple, affordable meditation chair that offers some back support.
Thank you for reading,
Jay
If you would like to comment on this blog or have any questions, please feel free to Contact Sage Meditation Customer Service.