Posted by Harry Cline on Jun 1st, 2019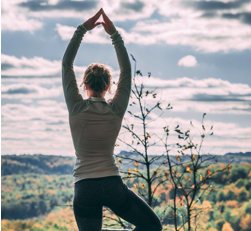 Nothing can erase the daily challenges of being a family caregiver. From providing hands-on assistance to managing all the little details of another person's life, caregiving demands a lot. To keep up with it, you need ways to nurture your physical and mental well-being.
That's where yoga comes in.
How Yoga Helps Caregiver Health
Yoga has proven benefits for physical and mental health. According to the National Center for Complementary and Integrated Health, these are some of the ways yoga could improve your life as a caregiver:
Relieve stress, anxiety, and depression.
Improve mental resilience.
Decrease pain and improve physical functioning.
Improve sleep duration and quality.
Encourage healthy eating habits and physical activity.
You don't have to be skilled at yoga to reap the benefits. Even beginners see improvements to their mental and physical well-being. If you can't perform poses comfortably, a teacher can help you modify them so you enjoy the practice without risking injury.
Yoga Benefits Seniors Too
Yoga can help your senior loved one as well. Even with health conditions that limit their range of motion, seniors can participate in gentle adaptive yoga, and see improvements to their mental and physical wellness. With a Medicare Advantage plan, including those provided by companies like Humana, seniors may even get insurance benefits to pay for yoga classes.
Exercise for Seniors
According to an article on RetireGuide.com, exercise is still a critical component of the health of seniors. While Yoga is a great form of low-impact exercise, it is important for everyone including seniors to engage in regular exercise such as cycling and walking. In order to avoid injury, seniors need to take care not to overdo it, however.
Starting a Yoga Practice
You don't need much to get started with yoga, but one thing is a must: a knowledgeable teacher. Yoga is a relatively safe and gentle form of exercise, but it's still exercise, and you could hurt yourself if you don't practice good form.
If it's your first time, start with a gentle hatha or slow-paced flow yoga class. If you want help learning poses and adaptations, enlist a private instructor for personalized assistance.
Many yoga studios have mats and props for students to borrow, but you may prefer to use your own. Buying your own equipment also gives you the freedom to practice at home once you're established in your practice. This is the essential equipment every yogi needs:
Yoga mat: A yoga mat provides cushion and grip. REI explains what to look for when buying one.
Props: Props aren't required, but they're a helpful tool for beginning yogis and people with physical limitations. Blocks, straps, blankets, and bolsters are the most commonly-used yoga props.
Water bottle: Hydration is key no matter the type of exercise. A reusable water bottle lets you satisfy your thirst without interrupting your practice.
Comfortable, breathable clothing: Yoga clothing doesn't need to be fancy, but it should be comfortable and allow full range of motion without slipping out of place. Many yogis practice barefoot, but for those who prefer to keep their feet covered, yoga socks come with added grip.
Adding Meditation to a Yoga Practice
If you're intimidated by the physical aspect of yoga, experiment with meditation first. Meditation is a great complement to yoga and introduces beginners to fundamental concepts like yogic breathing and mindfulness. Once you understand these basics, adding poses seems less scary.
Meditation won't improve strength and flexibility the way yoga does, but it still offers valuable benefits. Meditation helps seniors and caregivers release stress and adopt a more mindful approach to life's challenges. Meditation also has a surprisingly powerful impact on chronic pain. If you or your senior relative live with chronic pain, meditation is a no-cost, side-effect-free way to reduce pain's hold on your life. Mindworks explains how meditation affects chronic pain and suggests meditation techniques for reducing it.
You don't need to be coping with something difficult to benefit from yoga and meditation, but when you are, these practices can take your days from exhausting to manageable. If the stress of caregiving is starting to get to you or you've put your own health on the back burner for too long, start a yoga practice, and watch how your life benefits.
By guest writer, Harry Cline
New Caregiver
If you would like to comment on this blog or have any questions, please feel free to Contact Sage Meditation Customer Service.
Photo Credit: Unsplash