Posted by Jay Suthers on Sep 25th, 2015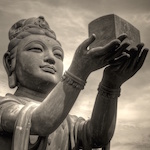 Each year it seems that Holiday advertising comes earlier and earlier. At first we hate to think about it and we complain that it is just too soon to start shopping for the Holidays. However, time marches on quickly. We will soon be in October. Children will get excited about Halloween. And, as soon as we have finished carving the pumpkins, we start planning for the Thanksgiving gathering the last Thursday in November.
Next thing we know we are fully into the Holiday Season in which many of the world's cultures hold various celebrations. Here is a brief list during December 2015:
Gift giving is typically associated with these and many other celebrations throughout the year. Some may see this as a conspiracy to buy stuff, but if you think about it, we all take considerable time to think about our friends and relatives during these celebrations. We want to honor them and we put a lot of deep thought into what we can give them that will be meaningful, inspirational, and welcomed.
If you are visiting us at Sage Meditation it is likely that someone on your gift list has an interest in Meditation. Or, you may be looking to give yourself a gift, which is something we really must do - honor ourselves, that is.
A meditation gift can be quite personal. In the case of meditation cushions, we need to know quite a bit about the recipient. Here are some questions to ask yourself when buying meditation cushions for someone on your list:
Are they new to meditation or have they been meditating for some time now?
Do they have a preferred meditation posture such as sitting cross-legged, sitting in a chair, or kneeling?
What is their height, weight, and level of flexibility?
Do they have a preferred cushion shape?
What colors do they like?
Do they have enough room in their living space for larger meditation cushions?
Of course, it would be most helpful if the recipient is requesting meditation cushions and can give you ideas or answers to these questions. You can give friends the address for our web site and they can create a Wish List that can be shared with you. They will need to create an account in order to do this, but we promise never to share or sell their personal information - yours either, for that matter.
Meditation cushions may be too personal for gift giving. We have a variety of meditation gifts that may be more appropriate such as meditation chimes, meditation music, and meditation mala prayer beads. Perhaps you can only afford to contribute towards a larger purchase or you don't want to risk buying something that will likely need to be returned. In this case, Gift Certificate might be a better gift choice.
Finally, I would like to offer you a little discovery of my own. Sage Meditation rarely offers coupons and discounts. We keep our prices as low as we can and charge shipping costs that match very closely to the actual cost to ship your order. But, if you are looking to save money and even receive some Cash Back on purchases at many stores over the Holidays, you might sign up at BeFrugal.com. It's absolutely free and you earn your first $5 Cash Back just for signing up. Then search for your favorite stores and start earning more Cash Back along with gaining discounts on purchases. It really is a winning arrangement. Just click on this link to sign up (yes, I also benefit by your signing up and you will further benefit by inviting your friends):
http://www.befrugal.com/cashback/?ref=FHJELHF
We at Sage Meditation want to encourage you to shop early. Even if you do not get the advantage of some of the so-called discounts that will come up on Black Friday and Cyber Monday, you may save some sanity in getting things done early. I am personally quite willing to sacrifice a little savings if I can reduce my stress level during the Holidays.
Thank you for reading,
Jay
If you would like to comment on this blog or have any questions, please feel free to Contact Sage Meditation Customer Service.