The 3-IN-1 Triple Alert Timer is a simple, versatile timer with some very useful features. Originally sold as the Triple Bel Timer, this kitchen-type timer offers three types of alerts that can be switched on or off individually to give you several options: silence (all modes off), vibration, beep, flashing light, or any combination of these three signals.
Our customers love this little timer. It is portable and so easy to use. The look and feel of this timer make it seem so much more valuable.
---
Specifications
Dimensions: 2-7/8" long by 1-7/8" wide by 1-1/8" thick
Weight: 2.2 ounces with batteries installed
Power Source: 2 AAA batteries - INCLUDED
Countdown timer with choice of vibration, beep, or flashing light alerts
Count up (stopwatch) timer
Switchable display for 99:59 (min:sec) or 19:59 (hr:min) timing
Automatic Memory for previous setting
Combination Belt Clip, Back Stand, and Magnetic Mount on back of timer
---
Flashing Light Signal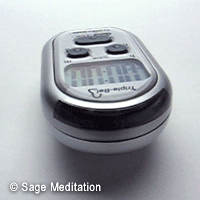 I purchased it to use in meditation circles where I need to awaken myself out of meditation without sound, so I can signal the end of sitting for the rest of the group with the bells. I was looking forward to using it on vibration mode. And I am using it now, even though vibration is much more stronger than I thought and sometimes startles me out of meditation. I would love it to be softer but there is no way to adjust it. Otherwise, the product is in great shape. Just the design can be improved.

Don't like loud, obnoxious alarms at the end of a countdown? This is for you. Want a timer that will count up as well? Again, this is the one! The last one of these I had lasted an easy 10 years until the batteries corroded. Instead of purchasing one, I purchased 5. I kept 2 for me and gave three as presents. This thing is awesome!

3-IN-1 Triple Alert Meditation Timer

While this timer lacks the lovely, gentle tones of a Zen meditation timer, it does get the job done. It is easy to use and affordably priced.

Triple alert meditation timer.

This is an excellent timer. It is simple to use and very compact to carry with you.

Product is well thought out and well made.