Posted by Jay Suthers on Nov 16th, 2022
At Sage Meditation we strive to bring you high-quality meditation, yoga, and massage products from small businesses, individual craftspeople, local people and businesses, and businesses where the majority of their manufacturing occurs in the United States. We can't always meet these criteria but we always make our best effort to support these businesses and individuals.
We are happy to have found the Florensi brand of meditation and yoga products. Florensi is Asian in origin and means "a person full of love." A Florensi is a person who never gives up and strives to bring people together for a common cause. It's a perfect match for our mission at Sage Meditation as we have worked for more than 20 years to bring people together in meditation especially but also in yoga and massage.
What follows is a brief introduction to each of these wonderful and affordable products. Although we are not able to offer these on our website, we would like to introduce them. All the links provided will take you to Amazon for review and purchase of these products. Sage Meditation earns a commission on any purchase of these products through Amazon.
Florensi Zafu Meditation Cushion
The Florensi Zafu Meditation Cushion goes beyond the traditional round zafu in that it contains both buckwheat hulls and foam padding. The buckwheat hulls conform to the shape of the body and creates a grounded feel. The foam padding creates a soft, comfortable seat for meditation.
The cover is made of velvet and features a zipper so it can be removed and washed. The embroidered lotus design adds a touch of luxury to the appearance of the cushion when it is resting in a meditation space.
The built-in carry handle makes it easy to take the Florensi Zafu Meditation Cushion along for visits with family and friends, or to a weekend retreat. The simple design of this cushion makes it easy to simply set it down and sit on it without having to make any adjustments.
Florensi Zabuton Meditation Cushion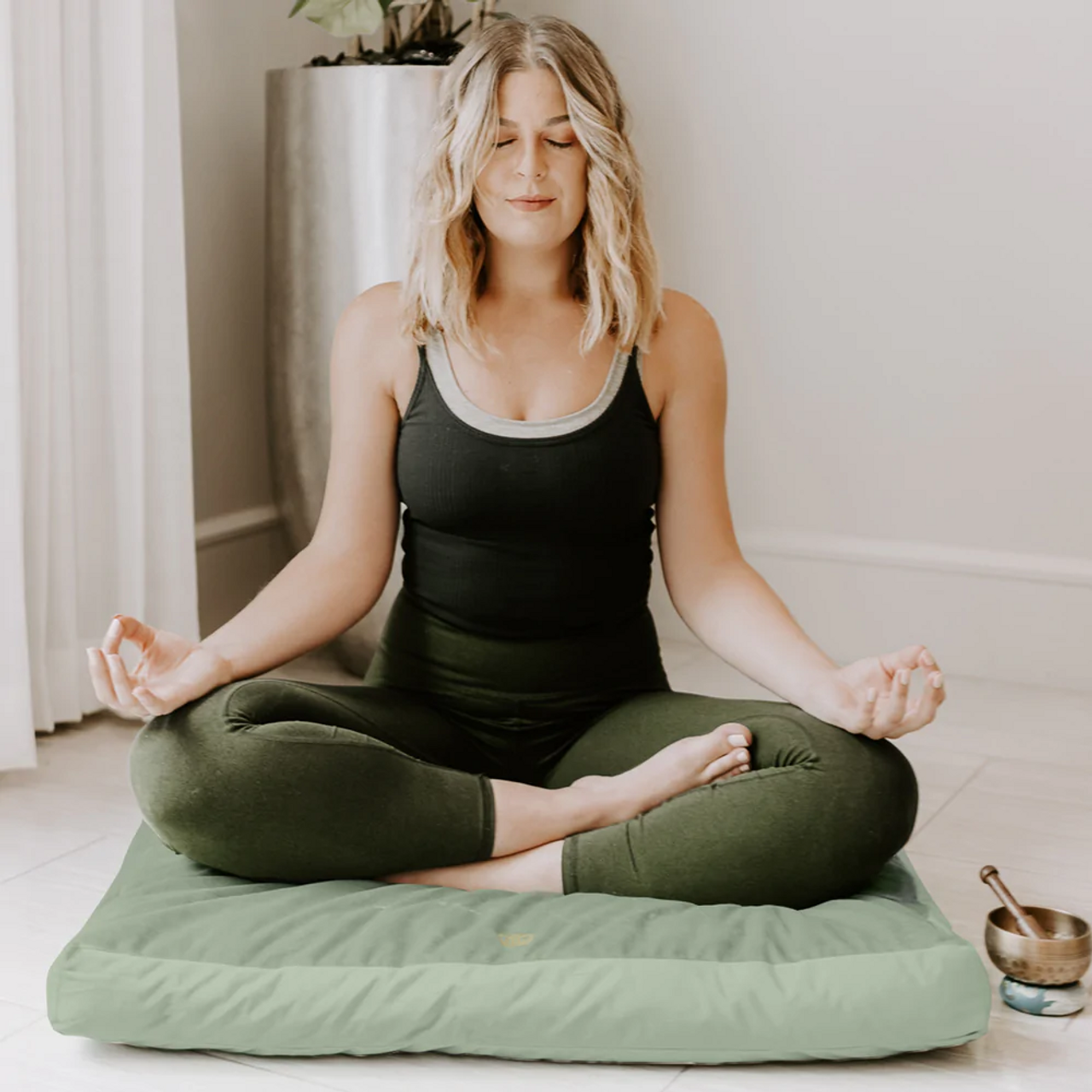 The Florensi Zabuton Meditation Cushion is the perfect complement to the Florensi Zafu Meditation Cushion. In most cases, a Zabuton is needed to cushion the legs, knees, calves, ankles, and feet from the floor. Even a carpeted floor is pretty hard and can press on the nerves enough to cause leg numbness and other discomfort.
The mat is filled with thick, cotton batting, which is durable and natural. Foam pads tend to compress too easily and do not offer adequate cushioning for the knees, ankles, and feet. The velvet cover comes in a variety of colors. The cover is removable and can be washed in mild detergent and cool water.
This versatile cushion can be used for more than meditation. It works well for general floor sitting and a set of Florenzi Zabuton with a Japanese Dining Table (link is to Amazon) creates a minimalist environment in your home.
Florensi Meditation Bench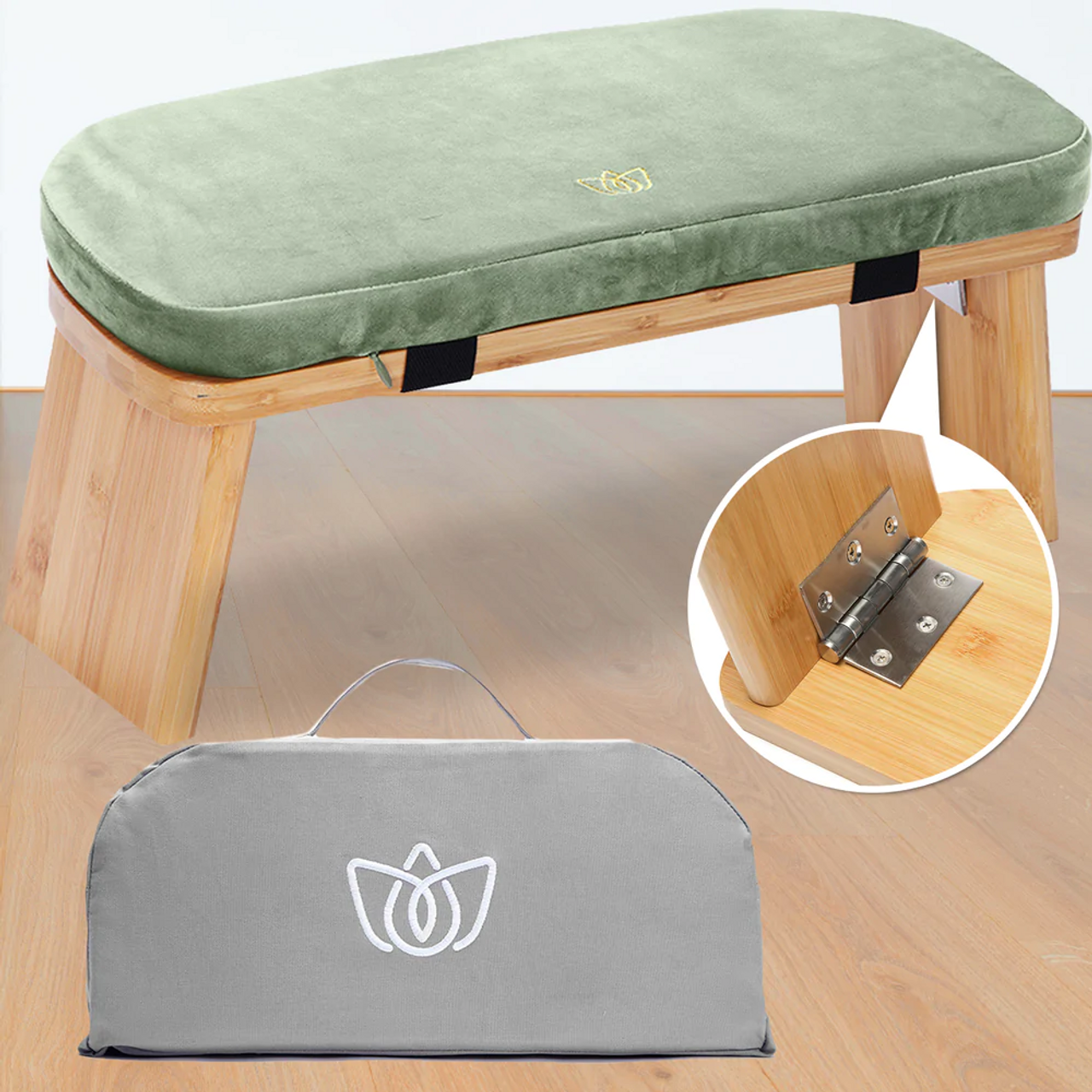 The Florensi Meditation Bench is a traditional wooden bench with folding legs and a cushioned top. The bench is made of durable, sustainable Bamboo Wood. Bamboo, as you may know, is actually grass that grows quickly and abundantly even here in the United States.
The high-friction hinges allow you to fold the legs and stow the bench in the included carry case. Simply fold the legs out and you are ready for your meditation session. The hinges will hold the legs in place and will not fold up while you are sitting on the bench. For proper use, this is a kneeling bench and not designed to be sat upon like a small stool. Your lower legs need to pass through, under the bench to support a good portion of your weight.
The top cushion is filled with closed-cell foam and covered with a velvet-fabric cover that is removable and washable. The bench can be used with or without the cushion.
Additional Florensi Products
Florensi Meditation Cushion Set

Thank you for reading,
Jay

If you would like to comment on this blog or have any questions, please feel free to Contact Sage Meditation Customer Service.